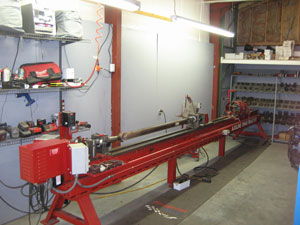 Farmer's Custom Driveline
Farmer's Custom Driveline specializes in identifying and eliminating drive train vibrations. We offer building, rebuilding and balancing of your driveshaft, whether it is in a small car, large semi-tractor or in an agricultural application. Our state-of-the art driveshaft balancer allows us to balance a driveshaft at over 6,000 RPM therefore permitting us to detect the most minute problem or vibration. We are also able to customize any driveshaft to your particular need or application. We have most tubing and u-joints in stock and turn-around time is minimal on most jobs.
Farmer's Custom Driveline also offers the areas only "Road Force Balancer" for your tires as well. Our machine aides in allowing us to detect vibrations in the drive train that may also come from your tires. Undercar vibrations can shorten the overall life of your car by 50%, so finding and eliminating these uncomfortable vibrations not only makes your ride more enjoyable, but can significantly improve the overall life of your vehicle. Our expertise and tools makes us the custom driveline experts to get you back on the road with your smooth ride.