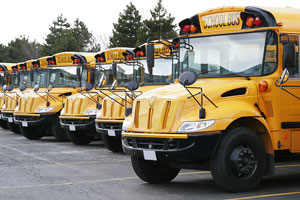 Fleet Services
Farmer's Transmission Repair is fully equipped to help you diagnose and reprogram your Allison Transmissions. Our Allisondoc program will help us aide you in answering whatever questions you may have on your Allison transmission. With our reprogramming and diagnostic capabilities we can help you save money and stay on the road longer by prolonging the life of your transmission. Our desire is to help you avoid costly overhauls by detecting a major problem before it occurs. We also have in house the only drive shaft shop in the state that can balance your bus drive shaft as one complete unit.
We have the ability of lifting up to 75,000 lbs! A costly portion of fleet maintenance and repair is the cost of dropping off and picking up vehicles. Farmer's Transmission Repair can help reduce this cost by having an in-house tow truck pick up your disabled vehicle in a timely manner.
We can offer service not only to your field trucks, but also to your office-staff and executive vehicles as well. We have the ability to service all import and domestic vehicles, up to F550/3500HD including Sprinter.
Diesel Repair:
We specialize in all Turbo Diesel repairs, including Ford Powerstroke, Chevy Duramax, GM 6.5L, Dodge Cummins and Sprinter Diesels.
Vehicle Inspection: We are happy to perform a full examination of safety and major components including lights, tires, brakes, suspension, emission systems, fuel systems, charging systems and cooling systems. In addition, we scan computer memory for codes. Technicians follow our detailed inspection sheet.
Quality Replacement Parts:
One very important aspect that is often overlooked is the quality of replacement parts. Quality replacement parts saves money in the long run over inferior brands. Farmer's Transmission Repair uses only the highest quality parts, including: MOOG suspension parts; Akebono brakes; KYB Ride control; Delphi and Bosch fuel and emission controls; AC Delco, Autolite, and Prestolite ignition components; Trans-Tech, Borg Warner, Raybestos, and S & K Shift kits are all used in transmission applications.
Warranty:
We proudly stand behind our work and make sure it is right. We offer 3 year/36000 mile warranty.